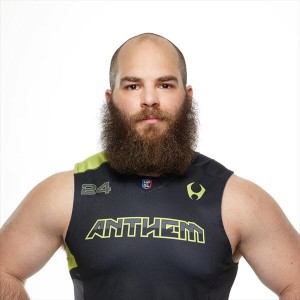 Jared Enderton, a native of Graettinger, Iowa is a nationally ranked weightlifter, crossfitter, and GRID Athlete for the Baltimore Anthem. He has trained at numerous locations, including: California Strength, Average Broz, Mash Elite, and the Olympic Training Center. As a high school wrestler in Iowa, he won a State Title and also earned All-American honors. After high school, Jared competed in Strongman and Powerlifting competitions for 3 years before picking up Olympic Weightlifting in 2010. Most recently, he competed in the 2016 Crossfit Games Regionals.
Jared is the Head Strength Coach for the TeamUSA Sprint Cycling Team at the Olympic Training Center in Colorado Springs, CO. Jared has also been coaching CrossFit since 2010 at various locations. Jared also travels around the country teaching Enderton Strength Seminars, focusing on tying in Weightlifting with CrossFit.
Jared completed his undergraduate studies with honors at the University of Northern Iowa. Jared's certifications include: Bachelor of Arts in Exercise Science, American Council on Exercise, ACE-Fitness Nutrition Specialist, CrossFit Level 1, International Kettlebell & Fitness Federation, and USA Weightlifting Sports Performance.
Get in touch with me at: jaredenderton24@hotmail.com